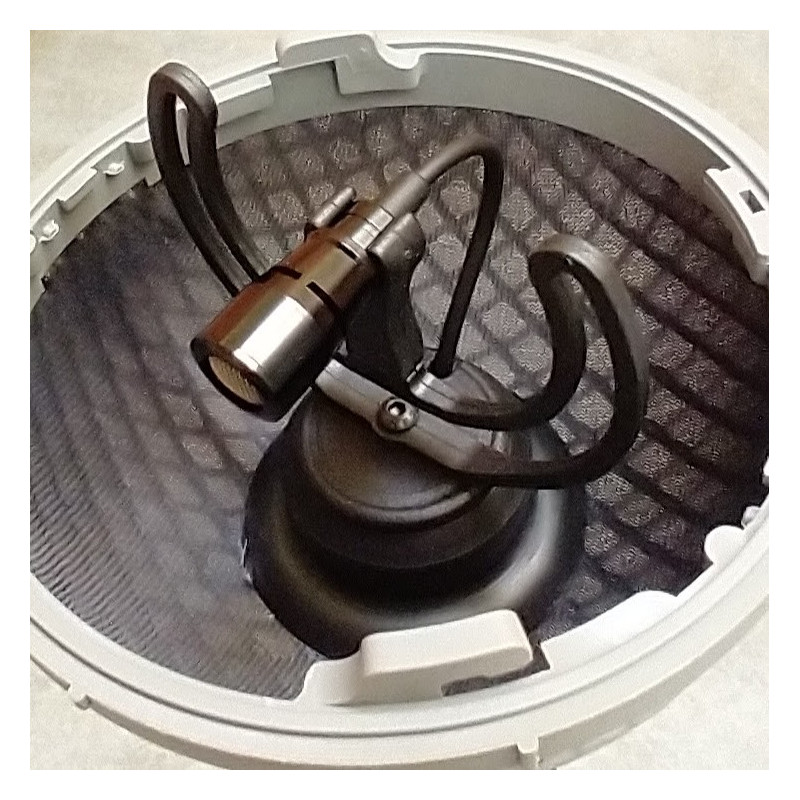  
Maximum Clippy Wind Protection (single)
Professional level wind protection for all Clippy microphones

Rycote Baby Ball Gag with Clippy Lyre and adapter

The Clippy is completely enclosed in still air to massively reduce the wind noise.

Provides the wind attenuation properties of a full sized windshield in a much smaller package.

To increase wind protection further a Rycote Windjammer can be added.
A complete kit to give Clippy mics professional level wind protection.  Up to 35 dB of wind noise reduction with minimal high frequency loss.
The Clippy is held in a Rycote Lyre mounted inside a Rycote Baby Ball Gag (BBG).
The adapter that enables this combination is designed and made in the UK by us, it is professionally 3D printed in tough nylon.
Fitting: The mic is threaded up through the hole in the BBG and then clipped into the Lyre holder. The Lyre and adaptor are then pushed back into the BBG neoprene grommet which holds them firmly in place.
The adaptor has a metal 3/8" female thread for mounting on microphone stands and stereo bars.  The Lyre will hold 8 mm microphones.  Cable exit is for Clippy cable, Mogami 2697 or any cable up to 3 mm diameter. The adaptor has a slot to lock the BBG in place for use in demanding situations.  The slot accommodates a 2.5 mm nylon cable tie.
The BBG is 100 mm wide and 100 mm high.  Weight of BBG and Lyre Adapter is 190 grammes.
Microphone not included.
To increase wind protection further we also have a Rycote Windjammer available.
In the box:

1 x Clippy BBG adapter with Rycote Lyre
1 x Rycote 25mm Baby Ball Gag